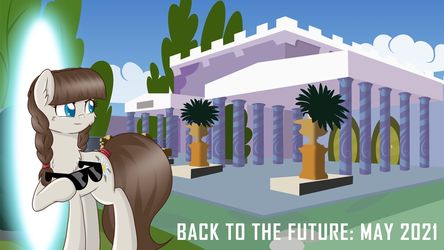 Place: Vienna, Austria
Official language: English
Basic ticket price: ~ 42€
Status: announced the first event
About the event
Planned as a European equivalent of BronyCon (ie with a pan-European scale), the first year of EuroBronyCon is planned for a weekend in September 2021, from Friday to Sunday. The venue will be the Palladion 21 conference center.
The event is organized by the Bronies Austria team.
History
Originally scheduled for September 2020, then postponed to May 2021 and postponed again due to the ongoing pandemic: this time to September 2021.
Mascot
The mascot of EuroBronyCon is Connie Bloom – an earth pony of an ashen color with a brown mane and a tail often tied in a braid. Her cutie mark is an alpine Edelweiss flower, often considered a symbol of the Alps mountains.
The creator of Connie Bloom is MichiX.