The easiest way for submitting content, updates, and requests is the contact form. For questions or any other input, let me know via email at info@bronies.eu or tag me on social media (see below).
Missing, incomplete, or inaccurate event data: Even though I visited most of these events in person, the descriptions and other data might be missing or out of date – if so, please let me know and I'll fix them as soon as possible. The same applies to unlisted and/or planned events. If you are an organizer of a brony event and want to enlist it or update the current data, don't hesitate to contact me!
Credits: Art and other published materials belong to the respective owners. Where possible, I tried to contact event organizers, artists, or content creators and ask for approval. Still, not everypony is reachable or even known (especially when the event is gone for years). If you find any missing credits to art (yes, there are many) and know the author, please let me know – I fill them in (with the link to the original piece where possible).
Photos, videos, art: Photos in galleries on this site are published with approval from their respective owners, and videos are embedded from YouTube or similar platforms source. If you find your art, photos, videos, etc. here and want it removed, let me know via the contact form (or disable the embedding feature for your videos).
Other: Just use the contact form or e-mail info@bronies.eu. I'm also reachable on Twitter (@Jamis_bro), Discord (Jamis#1337), and Mastodon (Jamis@equestria.social).
About me
Most bronies know me as Jamis. I joined the brony fandom in 2012 and since then, I visit brony events all over the world. My very first visit to a pony convention (GalaCon in 2012) sparked the Magic of Friendship and my desire to contribute to the fandom.
In 2013, together with a few brony enthusiasts from the Czech Republic and Slovakia, we founded a non-profit association dedicated to organizing brony events in our countries. Our first international event was Czequestria 2014 in Prague – now one of the longest-running MLP conventions in Europe – and I was elected as a chairman of the association and Czequestria itself (mainly because no one else wanted this job). These roles stay with me until today (mainly because no one else wants to take them).
In 2020, I also joined the international organization team that founded and now runs PonyFest Online.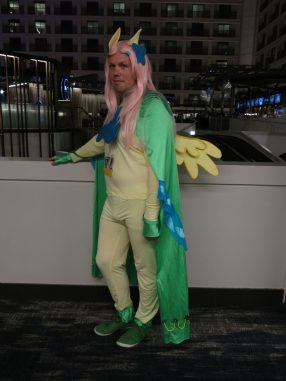 Since the beginning, I held panels in the MLP-themed program blocks on multi-fandom conventions in my country – mostly about the events in the brony fandom, that happened during the last year. Putting these reports together with stories from visited events seemed like a good idea – so I did and the result was the panel "Six years of MLP conventions (in Europe and beyond)" presented at Galacon 2018.
The updated versions were then held at GalaCon 2019, PonyCon Holland 2021, and PonyCon Holland 2022, shorter versions were part of Japan PonyCon 2016 and RuBronyCon 2018. These panels were the main motivation to create this page – there are simply too many stories, facts, and all experiences connected to these events to fit in one panel (the last panel at PCH took more than one hour and I barely made it to the planned end). So for the next time, most of the photo and video content will be available here for everypony and I can focus on the fun storytelling part.
I also like to cosplay for fun – mainly as a tribute to my favorite character, partially because I miss acting on the stage from the past, but also because I just want to. It's a source of many great memories and random fun situations anyway 😉 since I visited the very first GalaCon as Gala Fluttershy, this form stays with me for more than a decade now. It's hard to remember all the amazing people from all corners of the world I've met at all those brony conventions and meetups, but there were many and I'm grateful for every single awesome event I've visited.
I hope you like this brony events overview and archive project! And if we meet at a convention or meetup, do not hesitate and let me know in person! /)